Panel Path: /content/au-aiavitality/en/go/rewards/aia-vitality-at-home/shoe-booster/shoe-booster-landingpage
Step
Collapsed on load: false
Panel visible on load?: false
Purchase a new pair of workout shoes from adidas Australia and earn up to $75 cashback*, depending on your AIA Vitality Status and how many Active Benefits targets you reach from 6 September through until 28 November 2021.
Spend at least $100 on a single pair of adidas shoes.
Remember, you need to opt in to participate. You can access the opt-in link from the email you received from AIA Vitality.
Keep moving to get an additional $5 for each weekly Active Benefits target you reach between 6 September and 28 November.
Receive your cashback payment from AIA Vitality by 24 December, based on your Status and weekly targets achieved.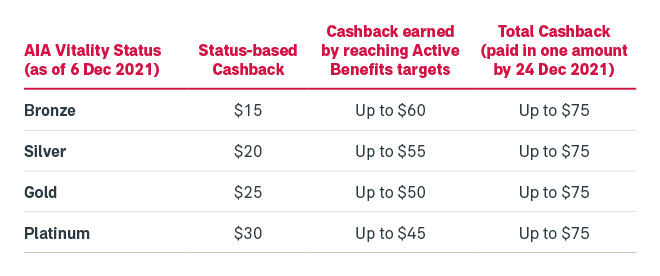 Please check your cashback bank account details in the AIA Vitality app are correct (iOS users: go to Account > Cashback Account, Android users: go to Menu > Cashback Account) to avoid any processing delays.
T&Cs:
*minimum spend $100 on one pair of shoes purchased from an adidas store (where open) or via the adidas website between 1 September and 30 September 2021. Shoes from the sneakers, running, training, tennis, golf and hiking sections only. Bronze members will need to achieve targets for 12 weeks to receive maximum cashback of $75. Silver, Gold and Platinum members will need to achieve 11 weeks, 10 weeks and 9 weeks respectively to receive maximum cashback of $75.